"The weapons we fight with are not the weapons of the world. On the contrary, they have divine power to demolish strongholds." 2 Corinthians 10:4
Anger, worry, despair, control, cynicism, sarcasm, spite; these are all "weapons" we could use to fight the battle for LIFE in our nation. These are the weapons of choice of our flesh. When we forget who our real enemy is, it's easy to get angry at the reality we face. The reality is that babies are dying every day in our nation, in our cities. In my home state last year just over 5000 babies were killed in abortions. That is such a sobering fact, but not nearly as sobering as the number lost in our neighboring state of just over 41,000! Yes! You read that right, it's not a typo. When I first read that statistic I was brought to tears, and filled with righteous indignation at the massive loss of life so close to home. When I was growing up in a suburb of St. Louis Missouri I remember when we would drive into our city limits and pass the sign that listed the population. I've never been much of a numbers gal. In fact I have always HATED math. It's a difficult subject for me and often when I am reading and there are numbers I just quickly scan them and don't really stop to read them or really spend much time thinking about them. But growing up in my hometown and passing the population sign frequently I remember it vividly even today, the population of the little suburban town I grew up in was 46,000 at the time I was living there. So when I read the statistic this week of how many babies were killed in abortions in Illinois last year I was immediately reminded of that sign. When I read that statistic it was like I was driving past my hometown and almost everyone was gone, wiped out by some plague or terrible terrorist attack. I'm not a very emotional person, but when I put the 2 numbers together I couldn't help but cry out to God and say, It's not fair! God, the state right next door to where I live had as many abortions last year as almost the entire population of the town I grew up in.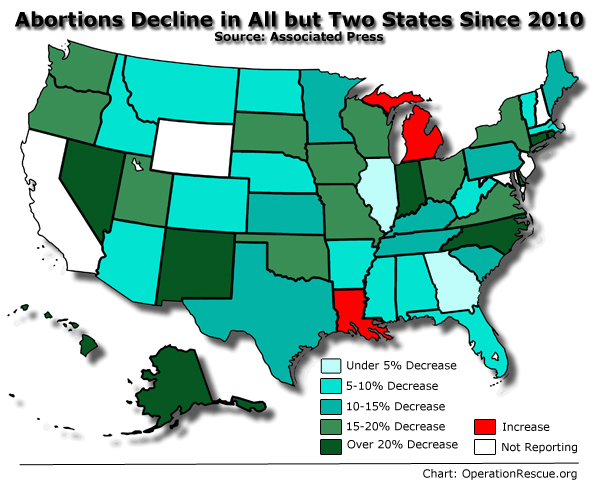 Abortion Rates Down since 2010
We can react one of two ways when faced with this reality. Our flesh wants to act out. When I realized just how big abortion is and just how many lives have been lost, I wanted to shout and yell from the rooftops. I wanted to call every pastor I know and grill them on why this isn't an issue they trumpet in their pulpits. I wanted to get in some people's faces about why they don't care. The flesh is so very weak and wants to act in all these rather immature ways that don't get the results we want. So how should we react? If all the "weapons" of the flesh are ineffective what are our "weapons" in this fight? 2 Corinthians reminds us that our "weapons" are not the weapons of this world, i.e. the weapons of our flesh. We fight this battle on our knees. The most effective weapons we have are; joy, prayer, and worship.  Joy? I know what you're thinking, how can I possibly have joy in the face of such blatant evil? Our joy is not because of the evil, nor is it reduced because of the evil. Our joy is in the saving knowledge of Jesus Christ who we know has already won the battle. He has defeated death and is victorious! When I remember this fact I can go to a clinic and remain joyful. I can't help but be reminded of a Misty Edwards song where she says, I know the end of the story, and we're only at the beginning of the beginning. We must keep our focus on Jesus and His victory over death. It is a vital part of being in this fight. Without that truth, we fall back on the weapons of the flesh, we become bitter, angry, and apathetic. Without Jesus and a reminder that we know how this story ends, we will burn out, we will stop going to the clinic because it's too hard, it's too depressing, it's too heavy. Jesus is the key, a close walk with Him is the sustaining factor in this battle.
We have forgotten this over the years, but if we look back at the Old Testament we see over and over again when the armies of Israel faced very strong and powerful armies God gave them some pretty odd strategies. David faced a giant with just 5 smooth stones.  Was it because he was just such a good shot with his sling? I'm sure he was skilled with his sling, but I propose the reason he defeated Goliath with the first blow is that he walked closely with God. He didn't approach Goliath with anger or sarcasm. He walked up to that giant with a confidence that comes only from a place of walking closely with the living God. David had a confidence not in his ability to use a sling shot to bring down a giant, but in a God who he knew would go before him on his (and the nation of Israel's) behalf. That God is still in the giant slaying business today. It is for that reason I can stare down evil with joy and a smile on my face (often accompanied by tears). It's almost a contradiction that I can stand outside a clinic with a heart full of prayer, praise, and love for my king, while at the same time full of grief and mourning for what is happening inside while I wait for the giant to fall. I suppose it's something similar to how the Father felt when Jesus was hanging on the cross. Knowing the glory of what was to come, yet having to endure the pain of the present. It is that hope, that knowing of a savior that brings joy.  We can press in with joy, because we know the end of the story, and we're only at the beginning of the beginning.  Thanks for that amazing reminder Misty!  We know the one who has victory over death, His name is Jesus.  Joy is a powerful weapon in demolishing the stronghold of abortion in our nation, let's use it!
(This is part 1 of a 2 part series on the weapons of our warfare.  Part 2 will cover,  prayer, and worship.)